It's been a few years since the release of the Mavic 2 Pro but yet still, it's a great overall professional drone. DJI are still very much the industry leaders when it comes to drones.
The DJI Mavic 2 Pro / Zoom is a drone that balances power, portability, and professional-quality visuals with the inclusion of a 20MP camera. It is the perfect tool for filmmakers who need to travel light and shoot high-resolution 4K video.
Differences between the Pro and the Zoom
Choosing one over the other will depend on intent.
The Mavic 2 Pro is exceptional with taking great shots that require very little post processing.
The Mavic 2 Zoom is extraordinary for film and story telling. Using the Zoom feature can become quite addicting and having this added flexibility is awesome.
The imagery of the Zoom is sharper and has a sort of blue tint meaning require some extra time doing post processing to achieve the image quality of the Pro.
How much time you will be putting into post processing would be a great indicator to know which drone to pick.
Build Quality
The Mavic 2 Pro / Zoom comes in a sleek silver outfit with an 8.8mm-thin gimbal and its aerial capabilities help to give you the best shot. Its camera is rotatable up to 90-degrees left or right and can be tilted all the way up to 45-degrees. Reviews everywhere indicate that they are also happy with its compact size and its foldable design that makes it easy to store or transport.
With its exceptional build quality, the Mavic 2 Pro / Zoom can withstand several crashes (but you don't have to prove it). You might need to have some propellers in stock just in case, but the base is very resistant.
The gimbal is also very good. We've yet to come across a broken gimbal story.
Image quality is exceptional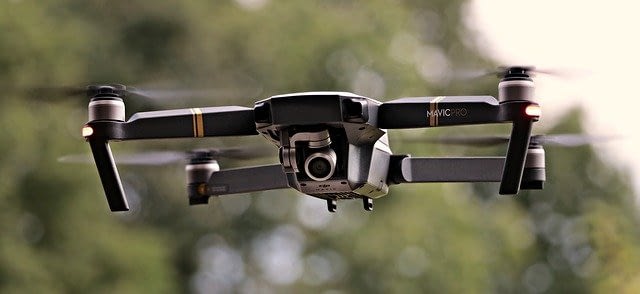 Taking aerial photography to the next level, the Mavic 2 Pro has an f/2.8 lens that is fast enough to capture slow-motion shots in bright daylight. The camera also supports HDR as well as D-Cinelike color profiles to help you get a dynamic range of 16 bits.
With the Mavic 2 Pro, you can capture large-format photography like a 24MP photo. It also has exposure times of up to 30-seconds and an ISO that goes up to 12800 for low light and increased exposure/lighting quality.
It also has a 3-axis gimbal, which provides more stability and better video. When it comes to picture quality, this camera offers pro photographers a 4K UHD video with its full pixel readout precision and 24 Bit color depth.
Flying the Mavic 2 Pro
The DJI Mavic 2 Pro / Zoom is perfect for beginners and professionals alike. It has all sorts of great features built in, making it one of the most well-rounded drones on the market!
With several intelligent features such as ActiveTrack make flying the Mavic 2 Pro / Zoom a breeze.
The drone is very stable at higher altitudes, which can help increase stability during long flights or when flying near buildings or mountains.
Battery Life of the Mavic 2 Pro –
Important
Let's be clear on one simple thing, drones have a flight time of 30 minutes or less on average. As a professional photographer, there will be no solution around this until drone developers improve their technology. In the meantime, consider by default purchasing at least 2 spare batteries.
It is advertised that the Mavic 2 Pro has a 31 minute flight duration however, in actual practice, it is closer to 25-26 minutes on average, and that's okay!. If you intend to be a heavy player, you will definitely need to have several batteries for backup.
These batteries, like most batteries in general, can tend to get swollen and will require to be replaced. This merely happens because the drone can get very hot at times. To increase your batteries lifespan, we recommend to do some research on voltage and how it works. With a 3 cell battery, 3.5 volts is a perfectly acceptable voltage to storing your battery.
Standard Controller or the Smart Controller
There is absolutely nothing wrong with the Standard Controller and continuing with will protect your budget however, phone battery life is a sickness we all suffer. With the Smart Controller you will have an integrated screen and will not have to worry about your phone battery or a call interrupting your session.
With that said, however, you must make sure that you actually are connected to Internet before take off when using the Smart Controller. If you have any connection issue while up in the air, you are certain to have a troublesome experience.
Recommendations when buying your Mavic 2 Pro / Zoom
The Mavic 2 Pro / Zoom is an excellent professional tier drone. If you market yourself properly, there is no doubt that you will make profit. Due the great quality of the work its capable to pull, your clients are bound to love it.
If you're plannning to do a lot of film or simply enjoy having a broader skillset, we recommend the Mavic 2 Zoom. Simple put, you get to do really amazing story telling all thanks to that Zoom function, which is addictive.
With the Mavic 2 Pro, you are guaranteed to create great compositions. The natural, cinematic and warm look and feel from your photos will make post processing much shorter (and sometimes unnecessary). This version is perfect if you're mostly focused on photography rather than film.
As a beginner drone photographer, the Mavic 2 Pro / Zoom can be a definitely be great option. With it's smart features, flying will be smooth and pleasant, with little to no hassle. To protect your budget you could even get away by buying a used one and you should be fine. Get some extra propellers in case of accidents and always carry spare batteries, even for your phone!
Fly safe and stay profitable.
Cheers!